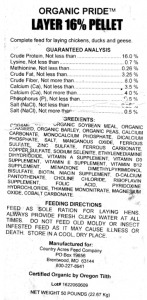 You buy chicken feed at your local feed store. You pay the premium and buy organic. But have you considered where that feed comes from? Well, you might be surprised. We've called most of the feed stores in Sonoma County, and as of fall '008 and spring '009, it is as we suspected, the chicken feed sold here is not from here.
Not even within 100 miles, an important radius for committed locavores. In general the feed comes from throughout North America, with corn from Nebraska, barley from Canada, soybeans from Iowa. Most of the feed you will find is aggregated and then mixed and bagged somewhere in the Midwest, with the exception of a few discussed in a later posts that source at least some ingredients in California.
Take this feed bag label as an example. Forgive the tear in the bag, but the first item is organic corn, with organic soybean meal, flaxseed,  barley, and peas. And then there's a long list of vitamins and minerals, the ethyllenemenadiaonepyrmidinols, you know, the super tasty secret ingredients everyone loves.
This bag of feed comes from Brentwood, Missouri, certainly not within a hundred miles of Sonoma County, California.
The distance this feed has travelled is one issue, another is the quality of the feed. Despite the organic certification, this is not a preferred food for chickens. If you give them the choice of this high protein feed ration and grass, scratch-harvested seeds, bugs, worms, etc, there is no question, the chickens prefer the real food.
So, this is the problem, what's the solution? We will be outlining our thoughts on that in upcoming posts. If you have ideas, suggestions, questions, whatever, please leave a note in the comments.